Have an older recorder that you are thinking about upgrading? The time is now! We want our customers to experience the best digital recorders we have to offer. For a limited time Olympus Professional Dictation is offering an opportunity to get your devices up to speed with the latest Olympus Dictation technology at a discount. Trade up your old recorders and receive up to a $100 rebate. Purchase a DS-9500 and new users will also get a 1 year subscription to the Olympus Dictation App included in your purchase.
Promotion Valid July 1st thru Sept 30th
Offer varies by product. Only valid with purchase of DS-9500, DS-9000 or DS-9000 Bundle.
DS-9000
Save $40
Record with enhanced clarity, simplicity and flexibility with the DS-9000. Features include a superior noise cancelling system, best-in-class file encryption and supreme structural integrity.
Offer:
$40 Instant Rebate
DS-9000 Bundle
Save $80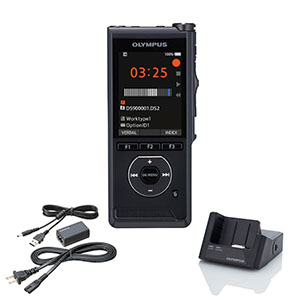 Everything that is offered with the DS-9000 and more, the DS-9000 bundle features a docking station cradle and an AC adapter for charging on the go. Recording has never been easier.

Offer:
$80 Instant Rebate
DS-9500
$100 +1 Year ODDS*
Dictate anytime, anywhere with the WiFi enabled DS-9500. Featuring intelligent dual microphones, and a shockproof body the DS-9500 allows for crystal clear recording.

Offer:
$100 Instant Rebate + 1 Year Subscription to the
Olympus Dictation App with ODDS
*Valid only for new ODDS users
This offer, along with all Olympus Professional Dictation products, is available exclusively through our network of Certified Dealer Partners. Click the link to find a dealer closest to your area.
The Olympus Dictation App (ODDS)
The Olympus Dictation Delivery Service (ODDS) allows users to create crystal-clear voice recordings anywhere with their smartphone. Then users are able to email or send encrypted dictation files directly into their organization's Olympus Dictation Management System workflow to automatically route to voice recognition software, a transcriptionist or a secure archive.